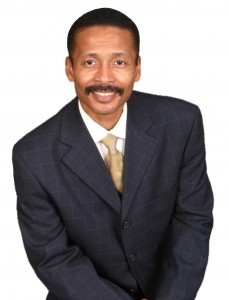 Elder Louis Benjamin Spicer
Ephesians Church of God in Christ, Pastor
Ephesians Community Development Center, CEO
     Elder Louis B Spicer, Jr. was born July 18, 1961 to Louis and Alice Spicer. He has one brother, Kenneth W. Spicer. He is the grandson of the late Superintendent Jack Spicer and nephew of the late Superintendent Joseph Turner of Bethel Temple PAW. Groomed from his teens, Louis worked with his father in the home building and car industry. After graduating from high school he enrolled at Healds Institute of Architecture 1980, Woodbury University of Burbank, CA in 2003 and California College of Arts of San Francisco, CA in 2007. Louis began working with various architects as an architectural designer in the Bay Area since 1984 and in 1990 he established LBS Design and Planning located in downtown Oakland, California. In 1994 he was registered with the State of California Architectural Examiners Board as Associate Architect with Mark Lindquist of Lindquist Construction and Bay Area Chapter President of the Association of General Contractors.
     Louis received the Baptism of the Holy Ghost in 1980 during the Saints University Crusade in Berkeley CA. Louis served in his local church as President of the Youth Department, President and Director of the Inspirational Choir. In 1991 Louis acknowledged the call to the ministry. Minister Louis Spicer served as Youth Pastor and Trustee Board Member at Ephesians of Richmond. Minister Spicer served as Richmond District Youth and Young Adult Choir President and District YPWW President and Youth Coordinator of California Northwest Jurisdiction Youth Department. Minister Louis Spicer was ordained an elder June 1996 and later that year appointed Assistant Pastor at Ephesians of Richmond. In 1997, the former pastor, Superintendent J. P. Spicer was called to Glory, with unanimous vote Elder Louis Spicer was appointed pastor of Ephesians of Richmond January 1998. After receiving the mantel of his grandfather and transitioning from Los Angeles, Pastor Spicer desired to effectively equip himself for ministry and enrolled in a Historical Black College & University in 2010 and May 2015 Pastor Louis Spicer graduated with Honors holding a Bachelors of Arts Degree in Religious Studies at Hampton University in Hampton Virginia. Pastor Spicer has a vision for Ephesians of Richmond. In March of 2003, Ephesians burned the mortgage. In November 2005, renovations began on the existing facility. As Pastor and CEO the following new ministries were established; Prison Ministry, Care for the Harvest, Convalescent Ministry, the Bethesda Homes for Men and Women. And a Faith-Based, Non-Profit Organization, Ephesians Community Development Center was incorporated in 2003.
     Pastor Spicer's vision ahead is to expand ministries by adding a new Family Life Center that would facilitate an Education and Tech Center, Academy and Christian Education Ministries, Counseling Ministry, Child Care Program, Housing Facilities, Youth Ministries and a Recreational Gym. The facilities constructed will house the Ephesians Ministries, Community Outreach Programs and the Ephesians Community Development Center.